Human Resources

practices a fair and transparent personnel system that grows together.
Position System


General



Employee

Assistant
Manager

General
Manager
Deputy
General
Manager

Department
Manager


Officer
CEO
R&D

Researcher
Assistant
Research
Engineer
Senior
Research
Engineer
Lead
Research
Engineer
Principal
Research
Engineer
Research
Officer
CEO
Personnel System based on Job and Performance

We motivate employees to enhance their expertise with compensation and evaluation system considering job value and role.
is laying the foundation for global talent management by rationally evaluating based on performance and providing educational opportunities.
We provide the 'fast-track' promotion opportunity to talented individuals who have demonstrated their achievements and capabilities by moving away from the framework of a seniority system, building a corporate culture that regards young and talented individuals as important.
Evaluation
The evaluation system of

is based on fairness and objectivity, and encourages continuous improvement and mutual growth by inducing organizational performance and employee growth.
The evaluation system consists of competency evaluation and achievement evaluation.

Competency Evaluation: Assessment of various behaviors in the course of business performance
Achievement Evaluation: Evaluation of the results of the employees' performance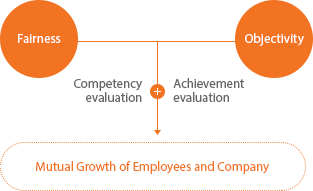 Reward System
Performance-based Compensation System

offers differentiated rewards based on the performance of employees and organization.
We build an organizational culture that is evaluated based on job performance through reasonable and fair evaluation.
Incentive System based on Business Performance

By operating an incentive system based on the company's business performance, we strive to increase the work commitment and share the achievements of the organization so that the company and its members can grow together.